New: Annual Responsible Investment Report 2021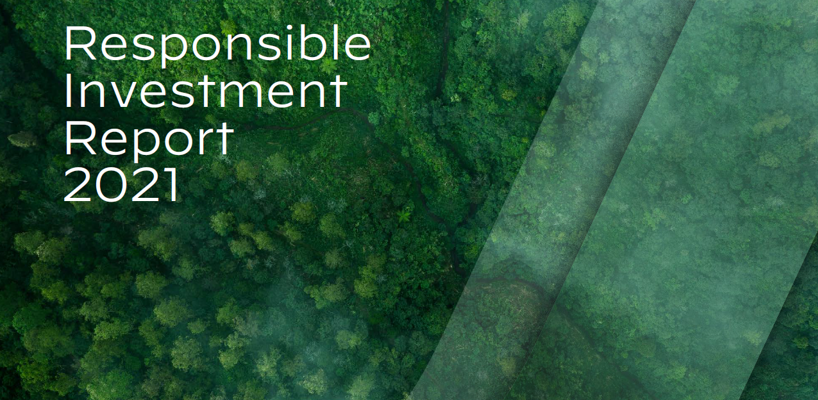 2021 was a significant year for our development with RI as we continued to systematically integrate RI principles and practices into to all of our investments.
We are proud to present our Annual Responsible Investment Report (RI) for 2021. As an asset manager, everything we do is rooted in serving our clients. That is especially true when it comes to our continuous efforts to evolve as a responsible investor that achieves financial results without harming society or the planet. Increasingly, we strive to allocate capital so that it does not 'just' avoid harm (though this is crucial), but that also positively contributes to sustainable solutions.
Watch our Director Responsible Investment, Jelena Stamenkova van Rumpt, and CEO, Jacco Maters, introduce the report:
2021 was a significant year for our development with RI as we continued to systematically integrate RI principles and practices into to all of our investments. On our internal materiality assessment, we approached being a 'leader', which signals an improvement in our practices, though purely used as an internal gauge.
We were proud to publicly set a target for net zero greenhouse gas (GHG) emissions in all our portfolios by 2040. This target is more ambitious than the Paris Agreement, which is intentional. Our hope is to learn fast and share insights with investors to help them with their decarbonisation efforts.
We evolved our Responsible Investment Policy and our impact investment methodology to reflect a rigorous, systematic, and multi-asset class approach based on leading industry norms, including the IMP (Impact Management Project). We also published our Impact Investment Policy. Our goal is to be transparent in our thinking and how we do things. Not only does this lead to better understanding for our stakeholders, we hope it openly invites dialogue so we may evolve.
We trained our people, management team and board on responsible investment and how to factor climate change into our investment process. RI is a continuous learning curve and we will strive to always better our understanding as the space evolves.
It was another year about the climate crisis, with COP26 taking place in Glasgow in November. Though financial markets and investors have stepped up efforts, 2022 has seen the regulatory spotlight shine on mis-met promises. We welcome this increased scrutiny and encourage investors to embrace new regulatory requirements as a chance to evidence their hard work. In 2021, we voluntarily prepared to report against the Taskforce for Climate-related Financial Disclosures (TCFD), and started reporting to comply with the Sustainable Finance Disclosure Regulation (SFDR).
We expanded and digitised our ESG scorecard, which helps us choose, monitor and engage with our external fund managers. Across the board, our portfolio managers have found this useful in driving conversations about ESG topics.
We started working with an external ESG data and engagement specialist, Sustainalytics, to engage directly with companies on behalf of our clients on global standards violations, financially material ESG risks and impact themes we find important. Finally, alongside other COFRA businesses, we also made a Science-based target (SBTi) to reduce Scope 1 and 2 operational emissions by 2030.
These are just some of the highlights you will find in our RI Report 2021. You'll also find more detail on our asset-class specific strategies, including new RI case studies, letters from our leadership, a spotlight on climate change, and holistic views of the ESG and impact performance of all of our assets under management.
Though we are very proud of the work we achieved in 2021, the road ahead is long and there is much work to do. We hope you enjoy this report, and we invite further dialogue on its contents. We hope that through transparency and continued dialogue, together we can continue learning and investing for a future where responsible investment is the norm.